URBANA –  The University of Illinois at Urbana-Champaign begins its fall semester today, with tens of thousands of students back on campus for a mix of in-person and online classes.
Things look different around campus, with students, faculty and staff expected to wear masks, practice social distancing and get tested for COVID-19 twice a week.
Some students say they are both excited to be back on campus and concerned about potential outbreaks if regulations aren't followed.
U of I freshman Crystal Okoli took her first COVID-19 saliva-based test at the State Farm Center testing site in Champaign last week. She says the process was quick and simple.
"Honestly it went by pretty well, the directions were very clear," Okoli says. "[It was a] very streamlined process, didn't really take that long."
The university's saliva-based test received emergency authorization from the U.S. Food and Drug Administration last week, and as thousands of students return to campus, labs at the south end of campus are processing upwards of 10,000 tests a day, with a positivity rate hovering under 0.5%, officials say.
The U of I has also developed a twice-a-week testing schedule, with reminders for each student and employee to report to one of the campus' 17 sample-collection sites. The Safer Illinois app provides those testing results and reminders, as well as next steps for students who have tested positive for the virus or have been exposed to someone who has.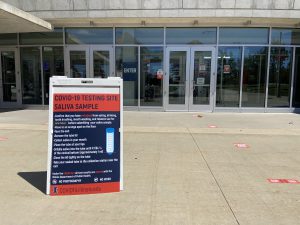 Okoli says she's hoping the semester will go smoothly with the university's ambitious testing program in place, and that students follow precautions, like wearing masks and avoiding large social gatherings.
"Coming in, especially as a freshman, I know the feeling, everyone wants the ideal college experience," Okoli says. "But I think we just have to figure out what our priorities are. If everyone just respects the regulations we have going on, I think we can make something work."
Sophomore Jalen Chang also recently got tested at the State Farm Center testing site in Champaign. With other universities shutting down in recent weeks over outbreaks, he says he hopes the U of I's testing plan will prevent the campus from closing.
Chang says he worries that the success of the plan will depend on whether students adhere to it.
"Hopefully it doesn't shut down—I'm hoping I stay here the whole year. But we'll see," Chang says. "I personally am glad to be back. My friends and I should be okay. But for the people I'm not sure about, I just hope they follow the rules, too."
University officials say that they expect a "bump" of about 200 positive cases at the start of the semester—from students arriving back already infected. But they say the spread will be contained with rapid, on-site testing, contact tracing and isolation.