PEORIA – When Illinois legalized recreational cannabis, state legislators sought to cut those disproportionately affected by marijuana arrests into the new industry's profits.
The path to entering the industry, though, has not been easy.
"If anything, it's been increased hardships, trying to pursue it legally," says Lisa Palmgren.
There's a heavy, grassy smell in Palmgren's basement in Peoria, where she legally grows cannabis for her own medical use. Some of the plants are coated in white dust – a sign that they are almost ripe, Palmgren says.
She started growing cannabis to manage her migraines before Illinois legalized medical marijuana. She faced harsh consequences in 2011.
One of her children opened the door to a plainclothes police officer. After the officer found her cannabis plants, her husband served time in jail on repeat possession charges. Their children were separated from them by the Illinois Department of Children and Family Services.
Palmgren says she's grateful DCFS placed her children at her parents' house.
"They got to go someplace that was comfortable to them. But it also still, you know, tore us apart. This was an empty house," Palmgren says.
She takes a deep breath and laughs shakily.
"Sorry. It's hard to talk about sometimes."
Illinois hopes to diversify the cannabis industry with "social equity" licenses
When the Illinois General Assembly voted to legalize recreational cannabis in 2019, legislators limited licenses to existing medical marijuana businesses and a new category of businesses — called "social equity applicants."
To qualify, a business has to be majority-owned by people who have been arrested on marijuana charges, whose family member was arrested, or who live in an area disproportionately impacted by such arrests.
Palmgren's experience qualifies her for a social equity license, but she's had trouble getting one. A local physician offered her a spot on his dispensary application team, but the deal fell through.
"They broke all ties, essentially two weeks before the application was going in. And at that point, we couldn't scramble fast enough," Palmgren says.
Democrat La Shawn Ford represents Chicago's District 8 in the Illinois House of Representatives. Ford has helped lower barriers to social equity applicants in the 2019 law. He says legislators want to repair harm caused by earlier laws against marijuana.
"It was a failed war on drugs. Too many Black people were locked up," Ford says.
While there isn't a race component to the social equity application, African Americans have been disproportionately incarcerated for drug crimes.
According to the American Civil Liberties Union, a Black Illinoisan was over seven times as likely to be arrested for marijuana possession before legalization as a white person, despite similar consumption habits. That trend continues after legalization, according to a recent investigation by the Chicago Tribune.
Meanwhile, 92 percent of the dispensaries operating in Illinois are owned by white people, according to the Illinois Department of Financial and Professional Regulation.
"The intent of the law was to make sure that people that were hardest hit by war on drugs had the opportunity to be in the business and that the communities that were hardest hit … were able to use the revenue to rebuild their communities," Ford says.
Co-owners helped Danville social equity applicant qualify
Some of the people running "social equity" businesses are the same white men who ran the industry before. The law just requires a different ownership structure now.
Seven Point is likely to be Danville's first social equity pot shop, located across the street from a former medical marijuana company grandfathered into the new, recreational law.
Seven Point CEO Brad Zerman does not fit any of the state's criteria for someone affected by marijuana arrests. He is a longtime entrepreneur from the Detroit suburbs. He's run ATM and payment processing businesses since the early 1990s and pivoted to medical marijuana businesses in 2014.
His business qualified for a license because of seven people he asked to be Seven Point co-owners.
Seven Point's "social equity" co-owners all live in an area disproportionately impacted by marijuana arrests. They have split the 51% ownership more or less equally between the seven of them, Zerman says.
Each brings their own expertise to the new business. Two run security agencies. One helps with drug safety education in schools. One is a pharmacist whose brother has struggled with addiction.
Zerman owns the largest, single share of Seven Point – but not fully 49% of the business. There are other co-owners who do not live in impacted areas and own shares within that 49%.
Vanessa Dotson is one of the seven owners who helped Seven Point qualify for a social equity license. She met Zerman while managing the restaurant next to his medical marijuana dispensary in Oak Park, near Chicago.
She says she wouldn't have been able to enter the cannabis industry without this chance.
"I don't really have an extensive marijuana background as far as growing it and as much knowledge as [Brad] might have. He opened the door for me on that one," Dotson says. "It's hard getting your foot in that door at all."
At the time, the application for a license was complicated, and expensive. Applicants had to pay $2,500 up front, provide pages of documents and there was no guarantee of being approved.
Illinois Public Media asked Zerman, who is white, whether businesses like his do what lawmakers intended. Does this kind of co-ownership help African American communities recover from disproportionate marijuana arrests?
"We're going to make a lot of people from disadvantaged areas – including many minorities – millionaires. That's seemingly the goal. To me, that's my job," Zerman says.
Lawsuit settled, first social equity pot shops can open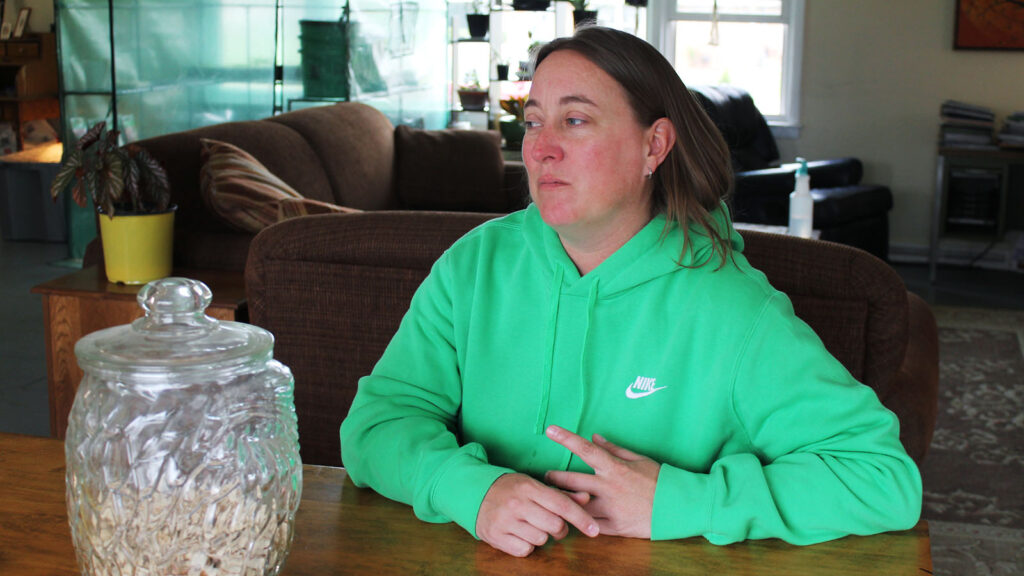 Lawsuits from applicants who didn't win a license have held up the entire social equity process for the last two years. The litigants settled the case in May, and the state's first social equity dispensaries could start operating this year.
Zerman expects to break ground on Seven Point in the spring.
In response to public pressure, the state has also simplified the dispensary applications to make it easier for people like Dotson and Palmgren to stand up businesses on their own. The application is now a simple online form, with a $250 fee.
Meanwhile in Peoria, Lisa Palmgren is still trying to get into the industry. She applied for a license to grow cannabis commercially but was told she didn't end up qualifying for the lottery.
"I'm speculating here, but I think it had to do with having health benefits in place, 401(k)s – all these things you needed to offer your employees. We couldn't commit to something like that. We believe – if that is the case – that is a barrier to entry," Palmgren says.
She's now filed a lawsuit in order to appeal the decision and find out what was missing in her application to grow cannabis.
This feature was produced with assistance from the Public Media Journalists Association Editor Corps funded by the Corporation for Public Broadcasting, a private corporation funded by the American people.
Emily Hays is a reporter for Illinois Public Media. Follow her on Twitter @amihatt.