URBANA — During snowstorms, the Champaign-Urbana Mass Transit District calls on both employees and volunteers to "plow" the sidewalks.
Cynthia Hoyle chairs the C-U Safe Routes to School Project. The project coordinates volunteer "snow angels," who commit to clearing snow from stretches of sidewalk near them.
"Because you can't get compliance by fining people. You get compliance by creating a culture of helping each other out. It's the same thing as mowing a lawn," Hoyle says.
Champaign and Urbana only require property owners to shovel their sidewalks in certain university and commercial districts.
This leaves blocks of snowy sidewalks, pushing children and those using wheelchairs or walkers into the street.
Hoyle says the best long-term solution would be for the cities to clear the sidewalks like they do the roads. She says this solution is expensive, though, and is most often found in wealthier places than Champaign-Urbana.
A new "snow angel"
Daniel Saphiere spent eight hours shoveling during the height of last week's storm. He cleared bus stops and freed at least three buses from snowbanks.
Saphiere is normally a planner at the MTD. During the storm, he did everything from mapping reroutes to driving buses.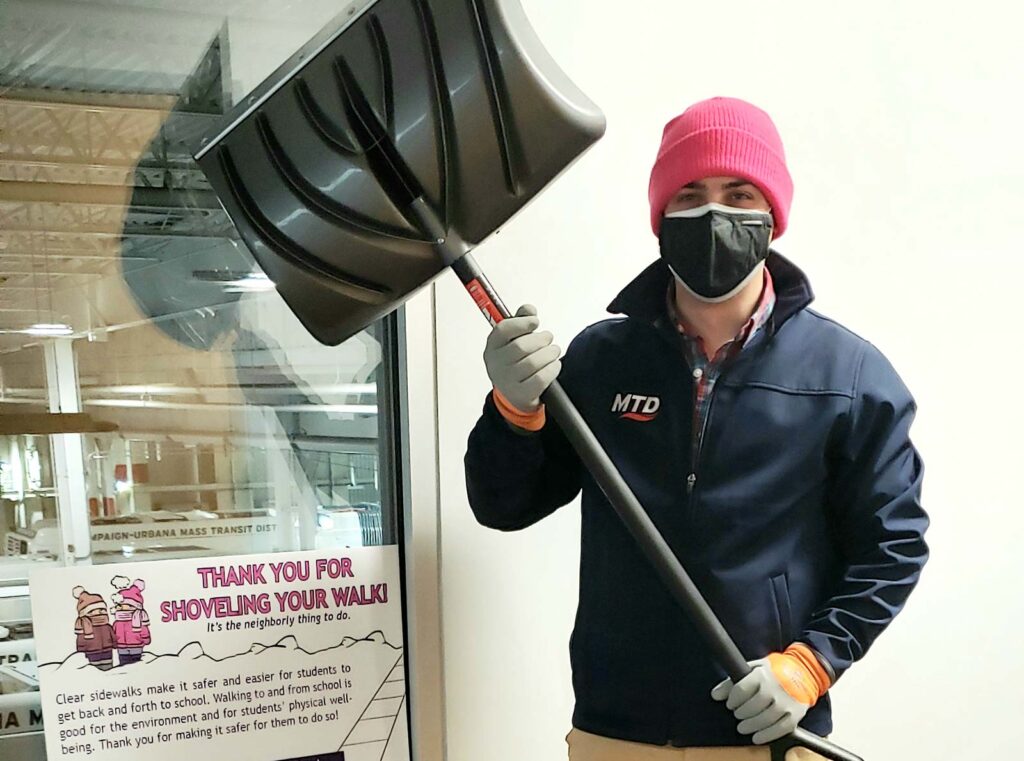 In addition to his MTD shoveling duties, Saphiere has volunteered to join the Safe Routes to School Snow Angel Program.
Saphiere doesn't own a car, so he understands the consequences of snowy sidewalks.
"It's pretty important to me to be able to get to bus stop by foot. You know, street plows are great but really only make the way clear for vehicular traffic," Saphiere says.
Saphiere saw his shoveling efforts pay off. He saw students using the bus stops he had cleared on Wright Street.
In fact, ridership continued throughout the storm, he says. About 11,000 people rode the bus on Wednesday, and about 13,000 rode on Thursday. That's about a third the ridership of a usual weekday but higher than a typical Sunday.
Saphiere explains that buses could get many riders to their destinations more reliably during the storm than cars.
"Cars would get stuck but buses wouldn't," Saphiere says.
Those who want to volunteer for the Snow Angel Program can sign up online here. Thanks to financial support from MTD and the Illinois Department of Transportation, the program can equip volunteers with shovels and snow gear if needed.
Emily Hays is a reporter for Illinois Public Media. Follow her on Twitter @amihatt.