CHAMPAIGN – The University of Illinois called police on a small graduate student worker protest on Wednesday and is threatening to suspend one or more participants. The Graduate Employees Organization (GEO) held the protest, in opposition to administration plans to relax campus-wide mask requirements. 
The university alleges one or more protesters kicked and shoved someone trying to get through the protest to enter the Swanlund Administration Building. The GEO says protesters didn't shove or kick anyone. 
"There was an assault on a university employee," said Associate Chancellor for Public Affairs Robin Kaler. "So we'll be reviewing the video and seeing people who violated policies. And certainly there could be disciplinary actions." 
The protest began around 7 a.m. outside of the Swanlund building on the university campus in Champaign, and continued until almost noon. A handful of protesters stood, with arms linked through puffy jackets, in front of the Swanlund entrance. Another handful marched and chanted in a circle on the sidewalk. Other GEO members chatted nearby or handed out cold weather supplies from a nearby tent.
Protesters turned away most trying to enter the building without conflict – except when one Swanlund employee tried at 7:30 a.m. to get past the protesters. According to Kaler, one or more protesters shoved and kicked the Swanlund employee and that the university called police to the scene to prevent further conflict.
Kaler says that if the university finds assault did occur, the university will take disciplinary action, up to suspending students for a period of time. She says that the protesters were breaking state law by blocking the entrance to Swanlund. However, since protesters moved away from the door after university officials and police notified them of the law around 11:30, no one will be suspended for breaking that law. 
GEO communications co-officer Owen MacDonald says that protesters did not shove or kick anyone.
"Somebody from the administrative side tried to enter the building," MacDonald said, "and then folks slapped themselves against the door. That's what led to this allegation of jostling that happened with that person making contact with GEO people. We have numerous eyewitnesses who do not see [assault] as what happened."
GEO demands mask requirements stay in libraries, workplaces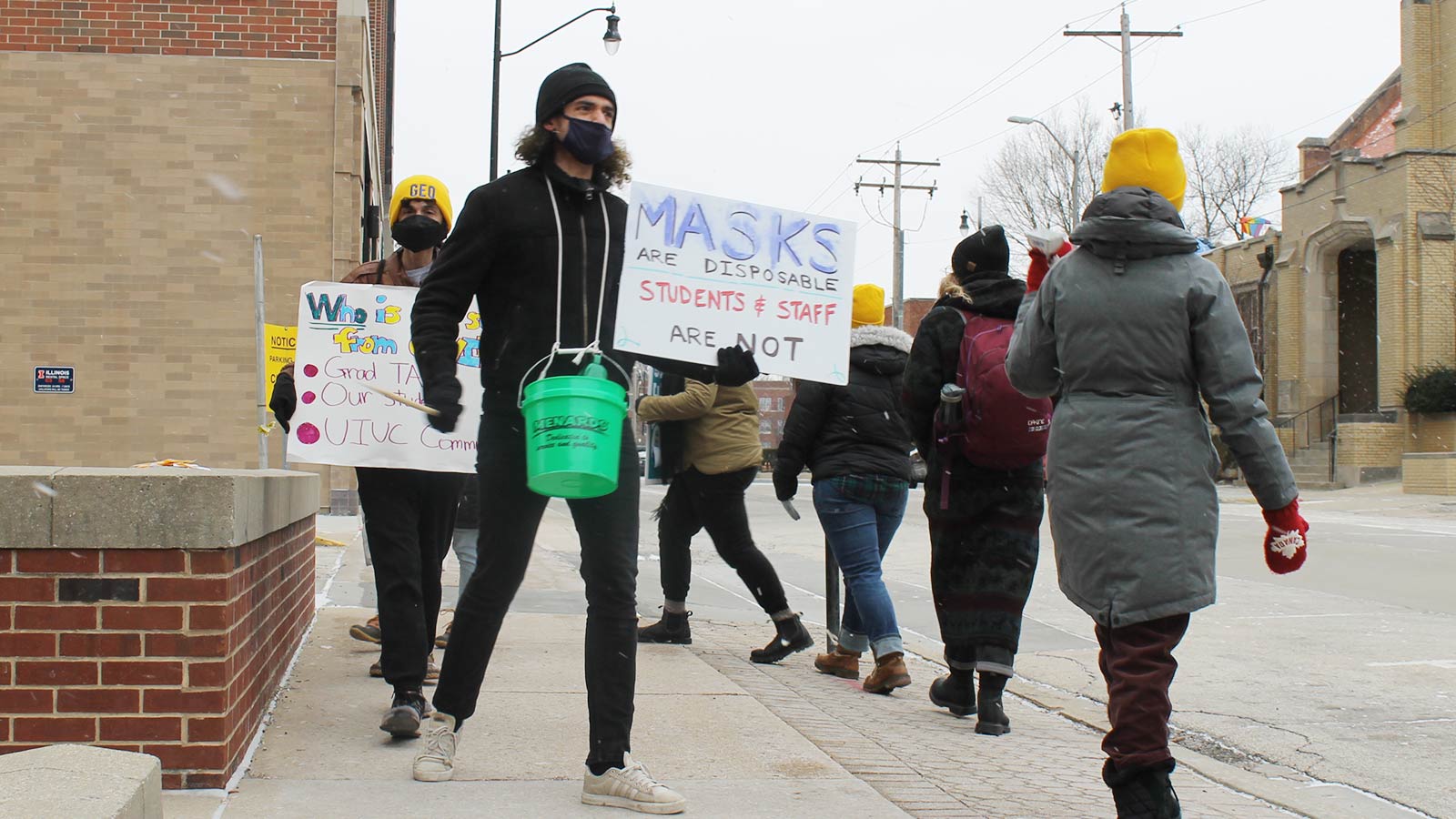 GEO members organized the protest to push the university to continue to require masks in all spaces where graduate students work, like libraries and dormitories.
"I love teaching, but I want to be able to teach in a way that is safe for both them and me, and masks are such a surefire way to do that," says Madie Farris.
Farris is a graduate student in the math department and a steward with the Urbana-Champaign Graduate Employees' Organization (GEO).
University Chancellor Robert J. Jones announced last week that masks would no longer be required in some university spaces, starting on Monday, Feb. 28. Gov. J.B. Pritzker plans to lift the mask mandate on indoor public spaces on that date.
The university will still require masks in classrooms during in-person class. Students and staff can stop wearing masks in many non-instructional spaces, including libraries and dormitories.
The GEO is opposed to this latter part – lifting the mask requirement in places like libraries where GEO members work.
Another protester, Rory Lusebrink, says they have two immunocompromised roommates, who could die or become hospitalized if they catch a breakthrough case of COVID.
"They work for the University. We believe that it's the university's responsibility to protect those people from getting COVID in the first place," Lusebrink says. 
University: No changes to mask policy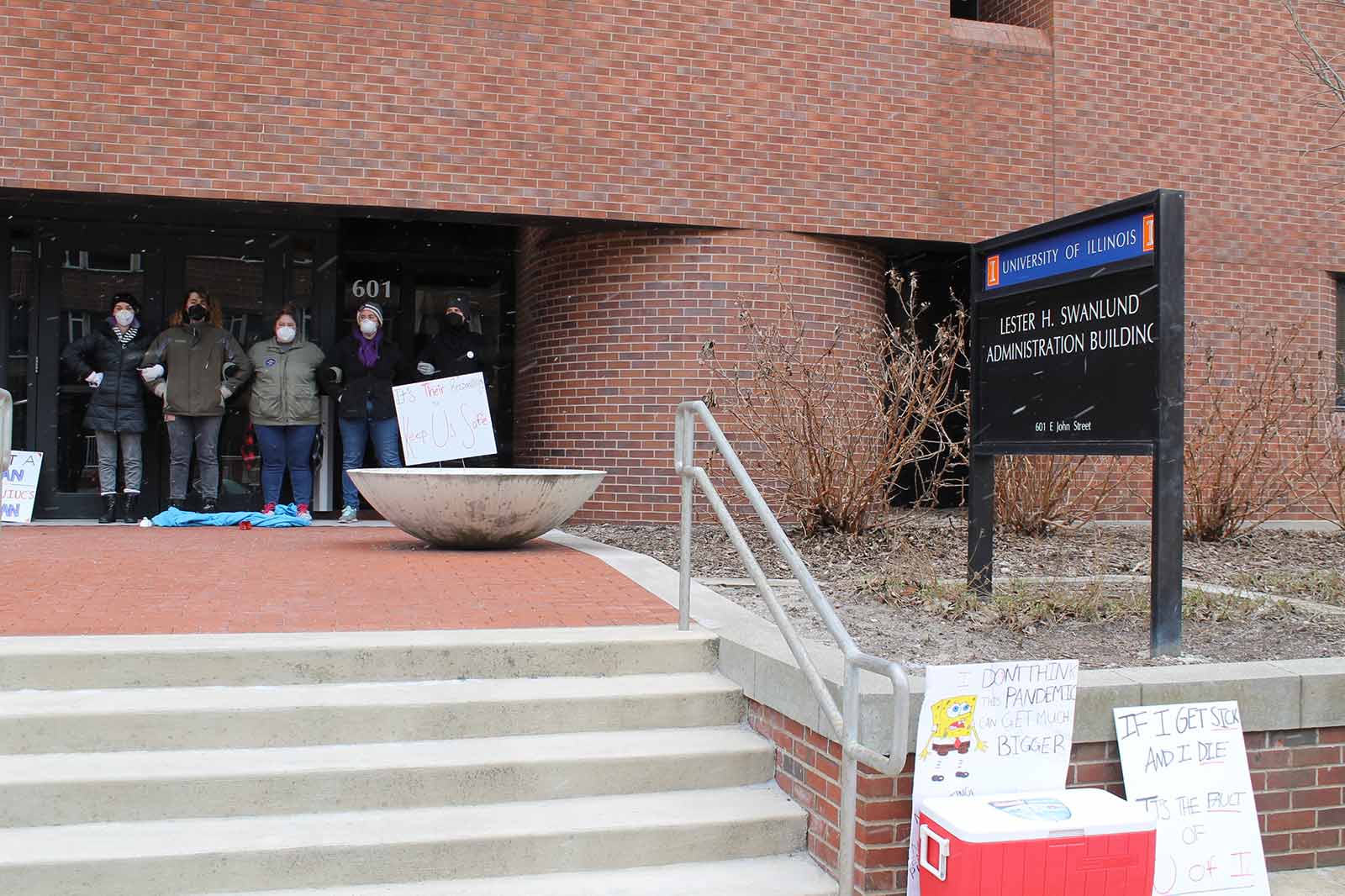 The GEO met with university officials on Wednesday to discuss the mask mandate and two other demands – that the university supply high quality masks for all campus workers and set up in-class exposure notifications.
Associate Chancellor Robin Kaler says the GEO's protest and bargaining session have not changed university plans to lift mask requirements in libraries and other non-instructional places.
Kaler says that anyone at the university can ask for up to ten masks at a time from locations across campus, including the Illini Union Bookstore. There is no limit on the number of masks someone can ask for over the course of the semester.
Kaler says few people have picked up the free masks so far.
In response to the GEO demand for in-class exposure notifications, Kaler says that the university does not have that data except through the Champaign Urbana Public Health District. Kaler says the university does whatever contact tracing help CUPHD has asked for.
"We have worked hand-in-glove with CUPHD throughout this pandemic," said Kaler. "Their team has been on virtually every significant Zoom call. They've approved emails we've sent and offered really wise, thoughtful on our approach and our messaging."
Disclaimer: This reporter has a family member in the GEO.
Emily Hays is a reporter for Illinois Public Media. Follow her on Twitter @amihatt.