Updated Saturday at 12:35 a.m.
URBANA – Meteorologists issued several tornado and severe thunderstorm warnings on Friday evening. An approaching cold front and warm moist air clashed, spawning severe weather in Arkansas, Missouri, Illinois and Kentucky late Friday. There are early reports of damage in the Illinois towns of Windsor and Gays in Moultrie County after reported tornadoes. Meteorologist Andrew Pritchard, reporting during live coverage on WILL-AM 580, said the severe storm threat greatly lessened before midnight. 
In the immediate Champaign-Urbana area, there were high wind gusts and heavy rain, causing street flooding, but no casualties or major damage were reported.
Severe Thunderstorm Warning including Effingham IL, Paris IL, Marshall IL until 12:45 AM CST
A Tornado Watch (#557) remains in effect until 2 am for portions of east central Illinois. Damaging winds, large hail, and a few tornadoes are possible. Make sure you have a way to monitor the weather, and get to safe shelter as the storms approach. #ilwx
Severe Thunderstorm Warning including Charleston IL, Mattoon IL, Effingham IL until 11:45 PM CST
Severe Thunderstorm Warning including Decatur IL, Clinton IL, Mount Zion IL until 9:45 PM CST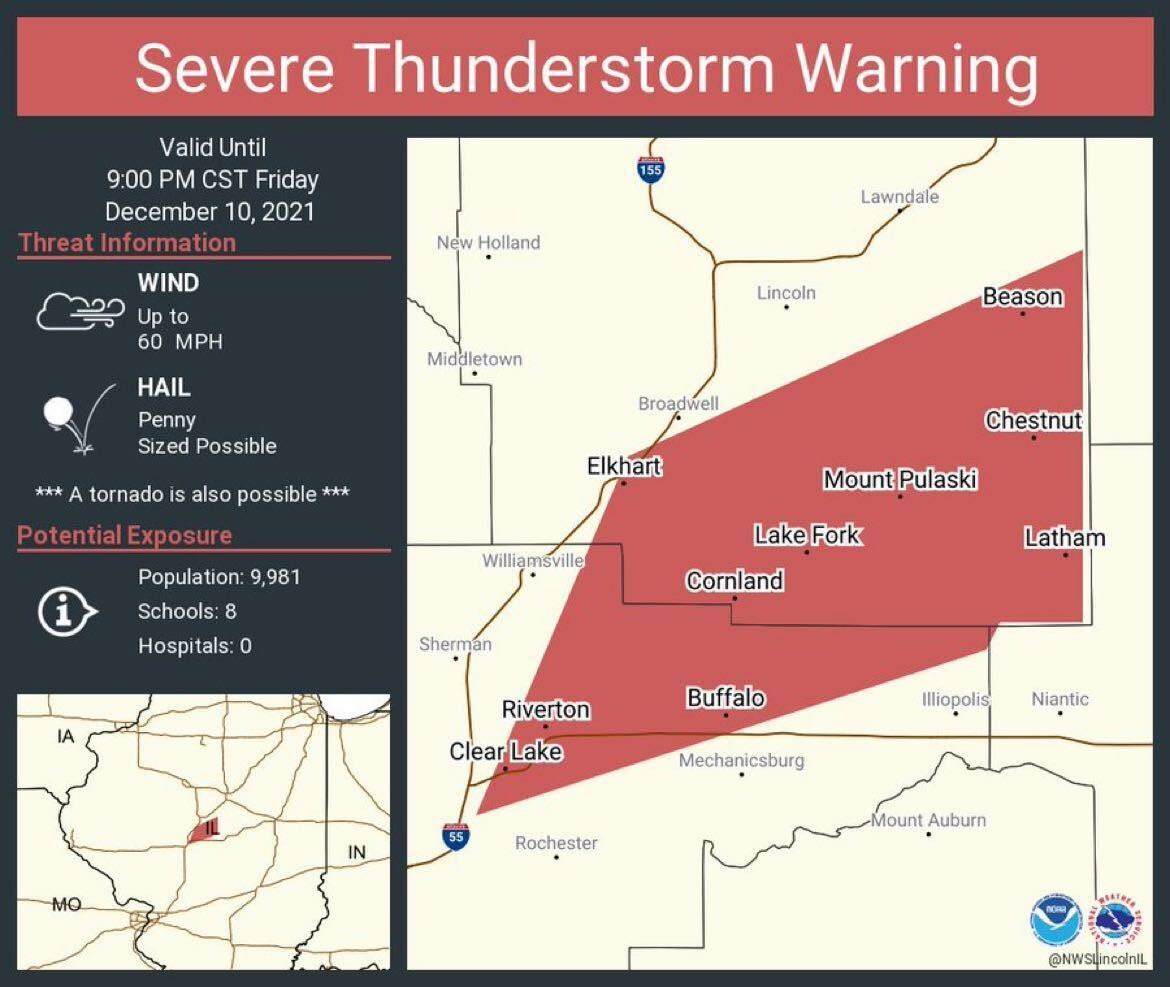 Severe Thunderstorm Warning including Riverton IL, Mount Pulaski IL, Spaulding IL until 9:00 PM CST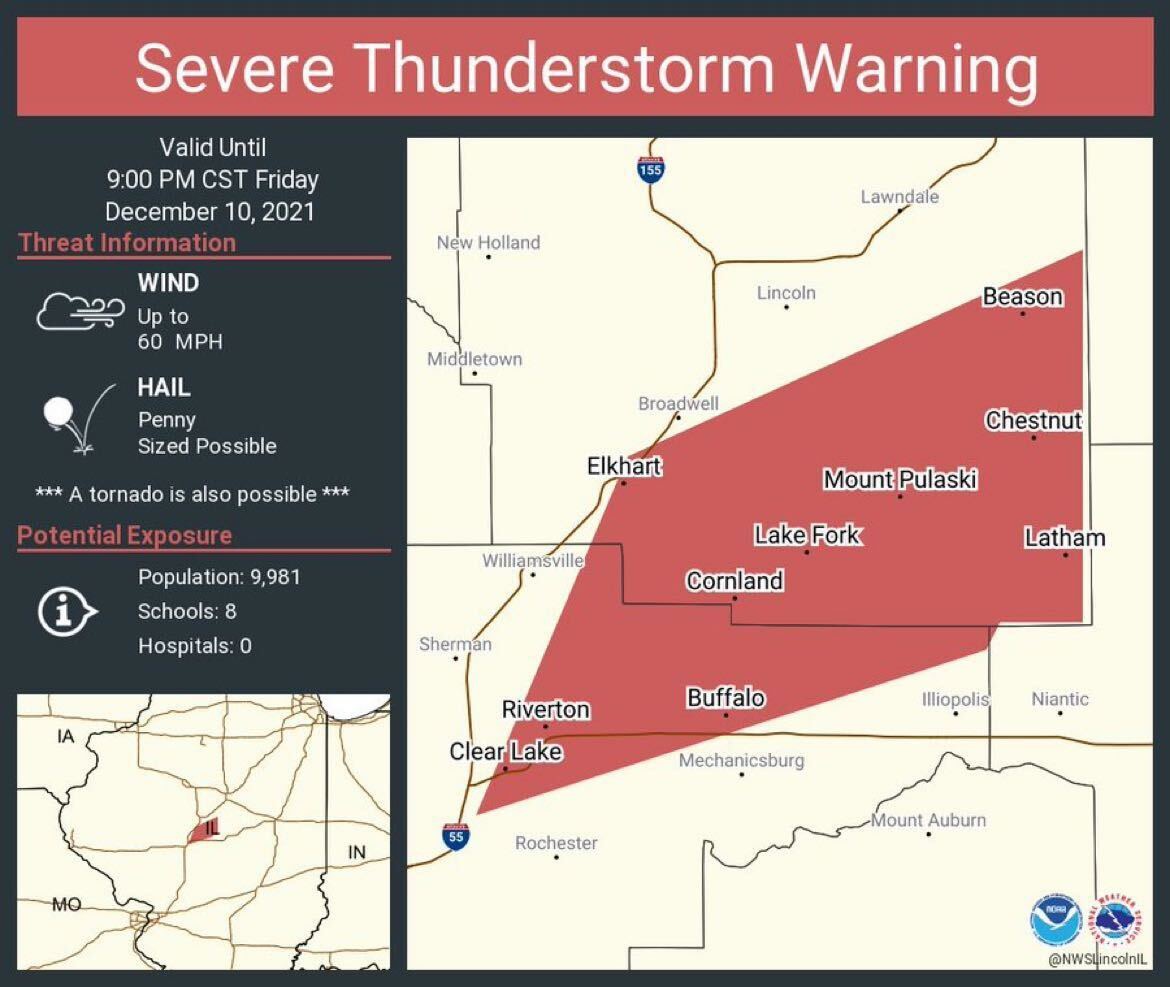 Severe Thunderstorm Warning including Chatham IL, Auburn IL, Rochester IL until 9:00 PM CST
Tornado Warning including Mason City IL, Petersburg IL, Virginia IL until 8:45 PM CST
A tornado watch has been issued for parts of Illinois and Indiana until 2 AM CST
Here for the night. We'll be interrupting programming on WILL AM 580 as needed. pic.twitter.com/iiSAcaF6mG

— Andrew Pritchard (@skydrama) December 11, 2021
A Tornado Watch has been issued until 11 pm for portions of west central pic.twitter.com/dTl6QpOVml

— NWS Lincoln IL (@NWSLincolnIL) December 10, 2021
Updated Friday at 4:00 p.m.
3:30 pm — Here's a look at the approximate times of the severe weather threat tonight. Storms are expected to develop near or west of the Mississippi River early this evening, and move toward the Illinois River through mid evening. #ILwx pic.twitter.com/HgEnIYlxzb

— NWS Lincoln IL (@NWSLincolnIL) December 10, 2021
Make sure you have a way to receive warnings from multiple sources no matter the time of day. Nighttime tornadoes🌪️are particularly dangerous. Keep NOAA Weather Radio where you sleep so you can be alerted and take action when severe weather threatens overnight. #stlwx #mowx #ilwx pic.twitter.com/cQ2rPIjpx6

— NWS St. Louis (@NWSStLouis) December 10, 2021
A Wind Advisory has been issued for the areas where 45+ mph winds are expected. This goes into effect at 3 am Saturday. #ILwx https://t.co/5mgZSkxh78 pic.twitter.com/qGTxWYxNyW

— NWS Lincoln IL (@NWSLincolnIL) December 10, 2021
---
Updated Friday at 11:00 a.m.
URBANA – Meteorologists are warning people in Central Illinois to be weather aware on Friday evening and night. Late Friday morning, the National Weather Service warned that damaging winds and scattered tornadoes will be possible in Bloomington, as well as Springfield, Decatur, Champaign-Urbana, Danville, and southward. 
Meteorologist Andrew Pritchard calls the late-season severe weather risk unusual.
"Temperatures will likely continue to rise into the early overnight as a strong storm system approaches," says Pritchard. "Thunderstorms are expected to develop near/after sunset to our west and then race across central Illinois overnight, with the risk of damaging winds and isolated tornadoes."
Pritchard advises people to take the storms seriously and make plans to hear the weather alerts before going to bed Friday night.
"The calendar says December and the peak risk for severe weather locally will be between 9 PM and 3 AM making this a very unusual setup, but it needs to be taken seriously," said Pritchard. "Plug those weather radios in and be weather aware as you enjoy your Friday evening."
Click here to learn more about special NOAA weather radios that send out signals when a severe storm or tornado warning is issued for your county.