This is a developing story. It will be updated as we learn new details.
CHAMPAIGN – Champaign Police say a 17-year-old male was killed and four other people were wounded Friday afternoon, in a shooting at a large post-funeral gathering for a previous shooting victim at the American Legion Post 559 on Hickory Street on the north side of Champaign.
On Friday evening, Champaign County Coroner Duane Northrup identified the victim as Kieshaun Lamar Thatch. A press release says the teenager "died from multiple gunshot wounds." He was pronounced dead at Carle Foundation Hospital after being transported from the shooting scene.
Champaign police confirm the gathering followed the funeral of 32-year-old David Dalton, who was fatally shot on June 20 in Champaign.
Police say the wounded include three males and one pregnant female, and that all were believed to be hospitalized in stable condition.
Several police vehicles were at the scene late Friday afternoon, including the department's Crime Scene Unit vehicle. The Legion post and its parking lot were closed off, and a portion of Hickory Street was also closed, but is now reopened. Dozens of police markers could be seen in the parking lot, showing the locations of shell casings.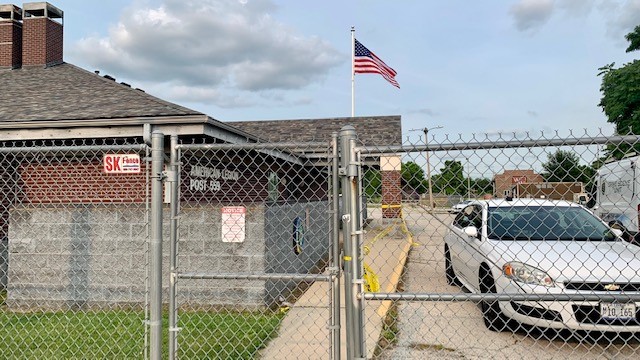 At a press conference held at 7:15 p.m. on Friday, Champaign Police Chief Anthony Cobb said the incident involved multiple shooters and is related to other recent shootings, although the details of how they're linked are still unclear at this time. The police investigation is ongoing.
Cobb said law enforcement observed more than 100 people were in the vicinity in the immediate aftermath of the shooting, but very few were willing to share information or assist in the initial investigation.
"Our officers encountered verbal hostility, limited cooperation and anger from the crowd as officers were arriving to assist the injured and begin their investigation," he said.
He pleaded with members of the public who have any information about what took place to come forward.
"We need assistance from the public in order to solve these issues," Cobb said.
In order to solve a crime and hold shooters accountable, Cobb said, law enforcement need evidence "to be able to prove it before a judge and a jury and be able to show that this person committed the crime."
Cobb expressed grave concern about the recent rise in gun violence in Champaign.
The number of homicide deaths in Champaign County has been fluctuating, but Champaign County recently saw a five-fold increase in homicides — from three in 2019 to 15 in 2020, according to data from C-U Public Health. Local health officials say most of these deaths involved guns.
"We have an epidemic when it comes to gun violence," Cobb said. "We don't want this to continue. We don't want there to be anymore bloodshed in this community — the rest of this weekend, the rest of this year."
Cobb said police are doing everything they can to address the rise in gun violence. He said he worries about the potential that innocent bystanders could be killed.
"Families were there. Children were there. Toddlers were there," Cobb said. "It could've easily been one of them."
Champaign Police ask anyone who has additional information to contact police at 217-351-4545. Arrangements can be made for information to be shared privately. Anyone wishing to remain anonymous may also submit tips to Crime Stoppers by phone at: 217-373-8477 (TIPS); online at 373tips.com; of the "P3 Tips" mobile app.
Crime Stoppers is offering a $1,000 reward for information leading to the arrest of the person(s) responsible for this crime.
(Updated 7:40 p.m. 7/2/21)