MONTICELLO – Allerton Park's annual concert series is now underway after the estate hosted an LGBTQ Pride concert Saturday. 
The first concert of the series has traditionally been called LOVE FOR ALLerton, but senior event coordinator Olivia Bunting said this is the first year that the concert really lived up to the theme.
"It was always the intent behind that 'Love for All' name, but this year, it is a full-fledged Pride event," Bunting said.
The concert featured the music of central Illinois band Bad Medicine and Michigan-based queer pop duo Lipstick Jodi. Attendees could also peruse the wares of LGBTQ art vendors, like E Ainsley and Vivian Krishnan, and get refreshments from several local food trucks.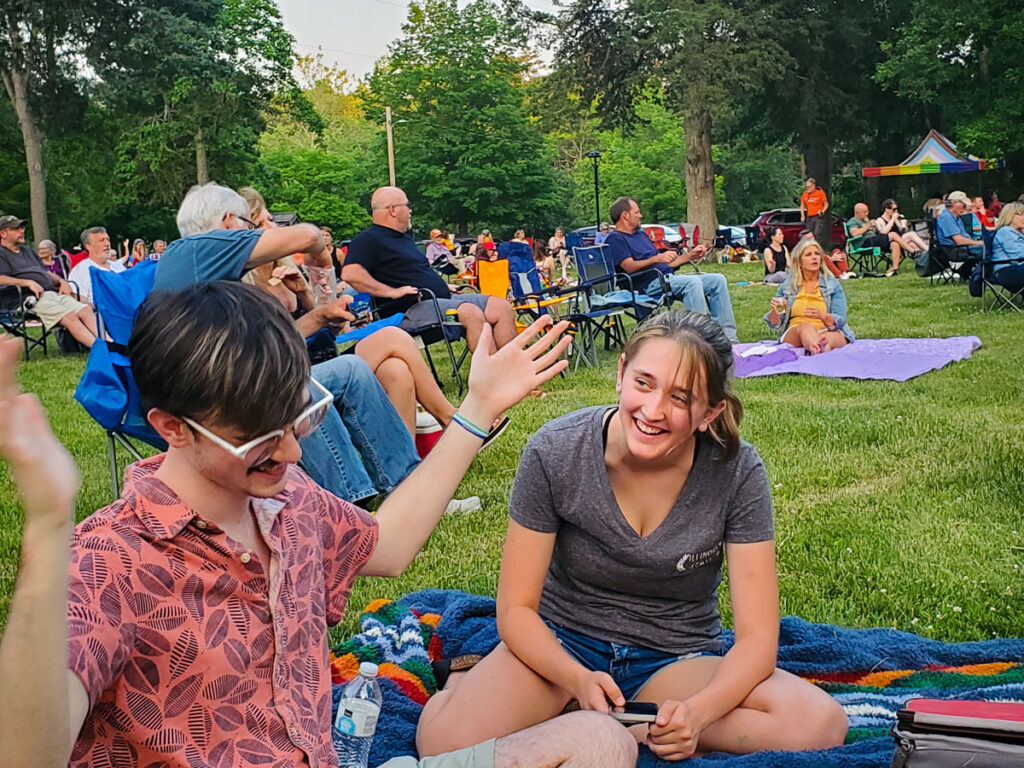 Braden Decker, a 19-year-old from Clinton, Illinois, said this concert was his first Pride event.
Before coming, he said he was a little skeptical that it would really be a welcoming space for the queer community.
"Half an hour away, the town I live in isn't the most accepting, so it didn't seem very far away that it would be as accepting as it is here," Decker said. "So I'm really happy that we have something so close that is so supportive of gay people like us to just have a good time and feel safe."
Bunting said the staff wanted to honor the wishes of Robert Allerton, who donated the estate to the University of Illinois, while also making the park a more inclusive environment for traditionally marginalized groups.
"Robert's intention was to invite people who appreciate nature and appreciate art and give them a spot to relax and call their home for just a little while," Bunting said. "We're trying to make that more apparent to the queer community and anyone else."
Vivian Krishnan, one of the art vendors, said she thought this concert was a good opportunity LGBTQ people from the area to see themselves represented onstage and and for members of the queer community to make connections with other LGBTQ people and allies, even in a more rural area like Piatt County.
"I think it's just great that people are using this Saturday to kind of celebrate and enjoy maybe an evening that they wouldn't normally get to have," she said. "It's pretty special."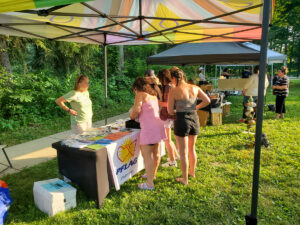 The concert series will continue through September 29. Future concert themes will include Blues, Reggae and Irish music with a mix of local artists and musicians from around the country, like Billy Galt and the Blues Deacons, Gizzae and Irish Whistle.
For all except the final performance, there is no cost to attend, though the park staff suggests a donation of $5 per person or $10 per family.
For more information about the Allerton Park Concert Series, visit the Allerton Park website.
For more information about Pride events happening in central Illinois throughout June, visit Illinois Newsroom.
Illinois Public Media is a co-sponsor of the Allerton Park Concert Series.