LINCOLN, Neb. — Everything was clicking offensively for the Illinois women's basketball team in its Big Ten opener at Nebraska Thursday night. Five Illinois players had scored in double figures, and the Illini led 67-63 with just more than three minutes to play.
Nebraska then went on a 12-0 run to take a 75-67 lead, winning by a 78-72 score.
Illini coach Nancy Fahey made no reference to officiating while pointing out that her team tried to get the ball inside during those closing minutes. She added that the Huskers were allowed to sink their shots uncontested.
"I felt like we missed a couple crucial shots down that little stretch. We went inside. We went to Eva (Rubin) and Jada (Peebles)," Fahey said. "I felt like that was pretty solid decision making, and we missed. They (Nebraska) came back and went to the (free throw) line."
Jada Peebles led Illinois with 16 points. Eva Rubin and Solape Amusen each added 13 points — career-highs for both.
Sam Haiby led the Huskers with 33 points, including 14-16 free-throws. Isabelle Bourne added 21.
Peebles said the Illini got fatigued in the end, but described it as a mental issue rather than conditioning.
"We need to stay out of our own heads," Peebles said. "This game, it was just locking in on defense, locking in when we're extremely tired, locking in for those last five minutes, because if we locked in for those last five minutes, then that would have been the game, completely."
The Huskers out-rebounded Illinois 47-35, led by Bella Cravens who grabbed 16 boards.
Starting guard Jeanae Terry didn't play in the second half for Illinois. She ran into a hard screen face first during the second quarter, returned to finish the half, but didn't play after that. In her 15 minutes of play, she grabbed seven rebounds, tying Rubin for the team high.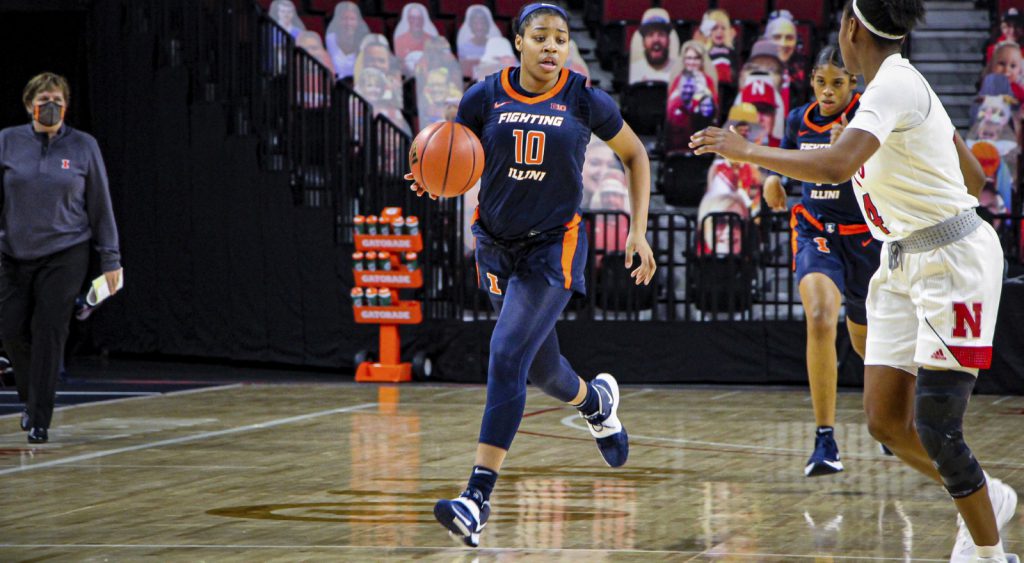 Rubin said that despite the loss, there's plenty of reason to think the team is improving.
"The losses are starting to hurt a little bit more because we're starting to build that winning standard, slowly but surely," Rubin said. "Definitely something to build from, but it's not like we feel good about it by any means."
Illinois is now 2-2 this season. The Illini have more than a week off before hosting Michigan on Saturday Dec. 19.
Rob McColley covers University of Illinois athletics for WILL.