This article is the second in a series about the access of pregnancy care for immigrants in Champaign. You can read part one here and part three here.
Teresa Rodriguez
Teresa Rodriguez is another Champaign County resident who has experienced language and cultural barriers. 
Rodriguez is from Mexico City.
She said when she started looking for prenatal care, similar to Silva, her husband had to translate for Rodriguez and take her to appointments.
At these appointments, Rodriguez said she was also questioned, like Silva, about why she wanted to have more kids.
"I said maybe in the future I want to have more children," Rodriguez said in Spanish. "And he told me if I would be sure I wanted more kids since I already have kids."
Rodriguez had gone to see the doctor for hip pain, she said. She said the doctor told her the problem was that she needed to lose weight. 
She said after the doctor told Rodriguez she was "too fat," Rodriguez asked for an interpreter because she thought she had misunderstood him. 
"The translator told me, 'Do you want me to tell you what he said?'" Rodriguez said. "(I said) 'Tell me.' 'He told me he already told you it's because you are fat.' And I said 'Oh!'" 
Rodriguez was shocked, she said, at her doctor's bluntness, so much so that she thought she had understood him.
The doctor then gave Rodriguez what she thought were vitamins because that's what the interpreter told her they were.
But after confirming and doing some investigating with Silva, Rodriguez's friend, she found out that her doctor had actually given her birth control pills.
This is one example of how small moments of miscommunication can lead to bigger problems later on. 
Hispanic women are more likely to receive late or no prenatal care, and according to a 2021 report by Blue Cross Blue Shield, since 2018, Hispanic women saw the highest increase of severe maternal morbidity than any other race.
Severe maternal morbidity is defined by the U.S. Centers for Disease Control as "unexpected outcomes of labor and delivery that result in significant short- or long-term consequences to a woman's health."
Silva and Rodriguez didn't mention any specific health problems they experienced, but they both said they each lost one of their babies during birth. 
Rodriguez said she experienced a lot of emotional stress when her first son was born. She said she became pregnant with him in Indiana and was still pregnant with him when she arrived in Champaign. 
During a follow-up prenatal visit in Champaign, Rodriguez said the doctors did and ultrasound and found that there was something important she needed to know about her child that doctors didn't tell her in Indiana. 
"They said, 'Did they not tell you something was wrong with your baby?' I said, 'No, there's something wrong?' And they said 'Yes.'"
Rodriguez's baby had Down syndrome, and even though Rodriguez had gone to all of her appointments, doctors in Indiana didn't tell her.
After her son was born, Rodriguez said he was immediately transported to Springfield for needed operations, where he stayed for two and a half months.
Rodriguez said this was a stressful time for her because she also had two other children at home she needed to take care of.
"I told the doctor that I could not stay here (in Springfield, Illinois) any longer because I had my other small children, and my husband had to go to work," she said. "It was very difficult for me, my husband and my children."
The difficulties for Rodriguez and her family continued as her son got older. She said when was six or seven, he had to have surgery on his tongue and that, growing up, kids at school would bully him.
She said he would come home from school crying.
"I felt bad for him," she said. "I would tell him, 'Don't worry. Let it go. I love you very much, and the rest is left out. Your family, your siblings, your grandfather, your dad and I love you very much.'"
Now, she said her son sings and dances, despite being told by doctors that he wouldn't be able to walk.
"And he is a very happy child," she said. "Now, he is a big boy, he is 13 years old, thank God, and he is a very happy boy."
Both Silva and Rodriguez have said that though they do believe there is a lot of work to be done to make it easier for Spanish-speaking women to easily access pregnancy care, there are still a lot of good resources and programs.
Many health care workers in the community offer translation services, such as translation phone call lines, in-person interpreters and video services.
Some health care workers, such as Sheila Raila, registered nurse and case manager at the Champaign-Urbana Public Health District (CUPHD), said no translation process is always going to be perfect, though. 
"Translation isn't just a matter of repeating the words back because they're part of that connection," Raila said. "It's up to the translator to do that, to help with building trust and actually reaching the person."
She said that a language barrier can create not only communication gaps but gaps about the purpose and job of healthcare providers.
"With someone that speaks English, it's fairly easy for me – I've been here 20 years – to convey, 'I'm here to help; I'm not here cause you're a problem'" Raila said. 
But she said with Hispanic patients and clients who might not speak English, it's a lot harder to reassure them about the healthcare process and let them know they're there to help.
And for people who don't speak Spanish or English, advocates say accessing pregnancy care is even harder.
Champaign County officials say that in the county, 70 languages are spoken and about 16% of people don't speak English. 
Eulalia Gaspar Pablo
Eulalia Gaspar Pablo is one of them.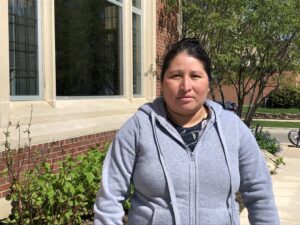 Gaspar was born in Guatemala. Her native language is Q'anjob'al, an indigenous Mayan language spoken in Guatemala and Mexico. 
Gaspar said, in Q'anjob'al, when she first arrived in Champaign, she immediately noticed differences from Guatemala. 
One of the biggest differences, she said, was the quality and nature of pregnancy care in Guatemala versus in the United States.
In Guatemala, where Gaspar gave birth to her son, she said she didn't meet with any medical personnel. She only had help from one woman.
So, when she arrived in Champaign five months pregnant and figured out she needed to see a doctor, she said she felt awkward since she wasn't used to the process. 
But, she said she knew she had to see a doctor to ensure a healthy pregnancy, and she said that even though language was a barrier, she was able to receive the care she needed.
In Champaign, there are roughly 550 people who speak Q'anjob'al, yet many people say they've never heard of the language. 
Health care workers say that this can make it difficult for doctors to know what type of interpretation patients need.
Ellen Solis, a midwife at Carle Clinic, said this has been a common barrier for her and colleagues at Carle.
"Probably the most common barrier we discover is that we will think that somebody speaks Spanish, because of their country of origin, but what happens is when they come to the clinic, we realize that they don't actually speak Spanish," Solis said. 
Then, she said, they have to quickly shift gears and call an interpreter who speaks Q'anjob'al, for example. 
"If you just assume somebody speaks Spanish and start speaking to a translator and expect that translator to say what I said, of course, in Spanish, it's really important that that person knows what you're talking about," she said.
Gaspar said that there have been times where this has happened at clinics in Champaign, which would then cause long waiting times. 
Eventually, doctors would be able to provide an interpreter.
At Carle, she said, after giving birth, the hospital provided her with a nurse for a year to accompany her throughout the process of taking care of her baby.
She said this service was really helpful to her and made her much more comfortable taking care of her baby.
She also said, though, that she does sometimes have concerns because she'd like to talk directly to teachers and doctors about her kids, but she knows that's not possible because of the language barrier.
Veronica Manuel Francisco
Like Gaspar, Veronica Manuel Francisco is from Guatemala and speaks Q'anjob'al.
Manuel said she had similar first impressions of Champaign as Gaspar  – that it was different from Guatemala and that she needed to find a school and doctor for her kids. 
She said she was amazed by the difference in quality of care in Champaign versus Guatemala. She had never received medical assistance like she did in Champaign, she said.
Specifically, she said in Guatemala it's common that the mom or the baby dies during birth. She said she was surprised to find out that that's not as common or as expected in Champaign.
The unfamiliarity with how pregnancy care worked in the United States made Manuel a little confused as to why she had to see a doctor and have so many appointments, but she said she soon realized that early and frequent care leads to healthier pregnancies.
Like Gaspar, Manuel said that she also struggled with the language barrier. She said she sometimes feels uncomfortable when she's unable to communicate directly with others.
She also said, though, that the interpreters in Champaign have been helpful and that she thinks she's in good hands. 
Gaspar and Manuel are just a small sample of the pregnant women in Champaign who speak Q'anjob'al.
Manuel said she knows that there are other women like her but who are afraid to reach out for help, whether that be with communication or with navigating Champaign in general. 
But she said those women don't need to be afraid and that there are lots of community members and resources that can help women – they just have to ask. 
This way, she said they can all address these language barriers together.
Carolina Garibay is a student journalist with the Illinois Student Newsroom. Follow her on Twitter @carigaribay.