URBANA – People who have navigated tough situations in health care often have the best ideas for how to improve the system. 
The goal of the Carle Illinois College of Medicine Health Make-a-Thon competition is to provide the support that everyday people need to help bring those ideas to life.
The competition is organized by Health Maker Lab — a maker lab network at the college.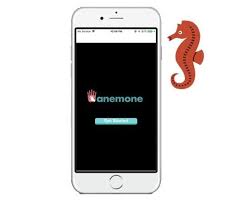 Each year, 10 winners receive $10,000 in resources, materials and mentorship from University of Illinois experts. The program, which is open to all Illinois residents, is now in its third year. 
The deadline to apply is Friday, Jan. 22, with the virtual competition scheduled for April 17.
Past Health Make-a-Thon participants include community members, students, healthcare practitioners, entrepreneurs, and other professionals.
U of I senior Ananya Cleetus, one of last year's winners, says the idea she had for the Health Make-a-Thon came directly from her own experience with mental illness.
She recently took a year-and-a-half leave from school to take care of her mental health. During that time, she was diagnosed with bipolar disorder and says she recognized a need for more readily accessible mental health resources.
"I had a lot of crisis situations," Cleetus says, "relating to suicidal ideations, panic attacks. And I noticed that this is a common thing among students, where people don't really know what to do."
She decided to create a mental health app, called Anemone, that helps people develop a crisis plan, complete with a list of warning signs, early symptoms, medications and treatment facilities. The app makes it easy to share the crisis plan with family, friends, health care providers and first responders. 
The app also compiles information on local and national hotlines and other digital resources to help people manage their mental health. It's "a safe space in your phone," Cleetus says. 
The Anemone Crisis App is available for free through the Apple App Store and has just over 700 users so far, she says. (The Android version is still in development.) 
Cleetus says the support from Health Maker Lab — especially the expertise of medical and legal professionals — was vital for getting her idea off the ground, and she encourages anyone with an idea for improving health care to apply.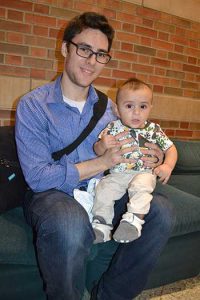 Yusef Shari'ati, a U of I chemistry Ph.D. student, and Siddiqua Haswarey-Shari'ati, a middle school math and science teacher, were among the Health-Make-A-Thon winners in 2019. 
The couple got their idea for health care innovation after their newborn baby was diagnosed with jaundice, or hyperbilirubinemia — a condition marked by yellowing of the eyes and skin. 
Jaundice is typically treated by placing the baby underneath an intense blue light for long periods of time, to help bring down the high levels of the chemical bilirubin in the blood. 
The treatment meant sleepless nights at the hospital next to the incubator that held their baby, the couple taking turns to offer comfort and make sure the baby didn't knock off the mask covering his eyes.
"It was really, I want to say, even traumatizing… because the first thing you want to do is just hold and hug your baby and make them feel safe," Yusef Shari'ati says.
The couple thought there must be a better way and pitched an idea for a wearable phototherapy suit that would allow babies to receive phototherapy treatment while being held by their parents. 
The Health Maker Lab has helped the couple in the development of prototypes of the phototherapy suit.
Additionally, a collaboration with a senior design class in the U of I's Department of Electrical and Computer Engineering led to the creation of a smart suit that transmits data on treatment progress — to allow health care providers to monitor the process virtually.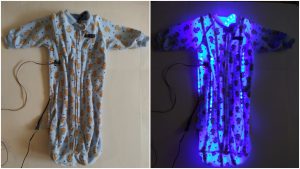 Shari'ati says he and his wife have also received critical support on the business side of things: They've already taken steps to secure patents for the suit, with help from the U of I's Office of Technology Management, and they hope to either launch a startup company or sell the idea to an existing company interested in manufacturing it.
Dr. Marty Burke, Carle Illinois College of Medicine associate dean of research, says the goal of the Health Make-A-Thon is to democratize health care and empower people to get involved in the quality of their own care.
"We believe that everyone has good ideas and we want to hear them," Burke said in a news release. 
"Literally anyone with an idea for improving human health has a chance to access our maker lab resources where our experts will guide them through concepting, designing, making, failing, and trying again."
Christine Herman is a reporter at Illinois Public Media. Follow her on Twitter: @CTHerman