The Big Ten Conference announced last week that all fall sports were being postponed because of the pandemic, with a chance that they'll compete in the spring.
Brian Moline talks with Fighting Illini distance runner Jack LaLonde about the cancellation of cross country season.
But that's not the case for cross country. Because those athletes also compete during the spring track season, their season is simply canceled.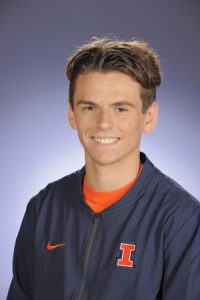 University of Illinois runner Jack LaLonde sat out from track last spring so that he could come back this fall to run one more season of cross country. The redshirt senior from Downers Grove will graduate in December with a degree in computer science.
LaLonde says he had a feeling the cancellation could be coming before getting the official email from athletic director Josh Whitman.
"I wouldn't say I was expecting it to happen, but there was kind of a build-up towards it going up to the announcement email that we got," LaLonde said.
He says it's been difficult for distance runners, who lost most of their outdoor track season last spring, to lose cross country season as well.
"In my experience, distance runners, given the choice, would probably run a cross country race over a track race if we could fit that in somehow," LaLonde said. "You know, it sucks, just like losing track did."
But he says he's trying to keep perspective as the country continues to deal with the COVID-19 pandemic.
"It's okay to have mixed feelings about it as an athlete. You see a lot on social media, at least, there's movements in two directions. One is it's not safe to play, and the other is we want to play," LaLonde said. "I think those can co-exist. I feel safe at Illinois if we had competed, but at the same time, it's okay to recognize it's bigger than the sport."