CHAMPAIGN – As Illinois battles the COVID-19 pandemic, the Champaign County Forest Preserve District is fighting another kind of invasive problem—a plant called garlic mustard.
Garlic mustard is an edible invasive herb that can spread in woodland areas throughout Illinois in the spring. It can grow rapidly, overcrowding and endangering native plants.
Typically, the Champaign County Forest Preserve District (CCFPD) sends out groups of volunteers during the spring season to help curb the spread of garlic mustard. But in the midst of the COVID-19 pandemic, the CCFPD is trying out a new system for volunteers to help weed out the invasive plant.
"Because of the social distancing requirements, we've come up with creative new ways in which volunteers can go out and work on their own to work independently throughout the preserves," says Peter Goodspeed, Director of Natural Resources at CCFPD.
He says the district is providing maps that guide volunteers to "high-quality areas," and also providing them photos and information about methods for pulling garlic mustard.
The maps can be found on the CCFPD Facebook page.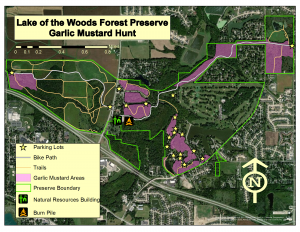 Goodspeed says the goal is to protect plant species native to what's known as high-quality woodlands sites. Some sites have never seen any logging or soil disturbance—and are home to hundreds of native plants per acre, including high-quality forb species, spring ephemerals and wildflowers.
Because of its ability to spread quickly, garlic mustard can degrade the diversity of plant species in forests, particularly in the Midwest and Northeast.
"The virus and the precautions we're taking for it really hit home the importance of stopping the spread," says Elizabeth Kirby, a volunteer who has been going out alone to pull garlic mustard during the COVID-19 pandemic. "The same is true for these invasive species that we face. Each one of these [invasive plants] thrives because it's able to reproduce so quickly. We can't just focus in and say this is a natural area, this is not a natural area, so we'll stop it here and let it grow here. We have to stop it from spreading everywhere."
Lecia Bushak is a Multimedia Environmental Journalist for Illinois Newsroom. Follow her on Twitter @Lecia_Bushak.