CHAMPAIGN – June 30 marks the end of Pride Month, but that doesn't mean that activists and LGBTQ+ allies are done celebrating the LGBTQ+ community or reflecting on change that still needs to happen. 
Illinois Newsroom student journalist Carolina Garibay spoke with Nicole Frydman of Champaign, one of these activists. This month, she attended several of Uniting Pride of Champaign's events, including a drag picnic, a queer clothing swap and a pride dance party. She says the events were more than successful and reminded her why activism is at the root of who she is.
She starts off by reflecting on the drag picnic, which she said helped her transition into the social scene after having to social distance and quarantine for a year.
Nicole Frydman: "It was a nice entre into it because it was still outside, and you felt like there was a level of safety involved. It didn't feel so overwhelming in relation to the anxiety of being back in person, and it was a truly fantastic event. The energy there was so positive. The drag performers were thrilled to be back and performing for a crowd, and people could not throw their dollars at them fast enough, which was lovely, and just the energy of gathering was so special, and it was great being outside because then kids could participate, and it was a family-friendly event, and that was really lovely and positive. So, that really helped me transition. I definitely have had anxiety around being back with people, even when, you know when Dr. Fauci says it's safe I trust him, but it still doesn't impact the anxiety mentally and emotionally of doing something you haven't done in a year and a half, so that was a lovely entrance back into it. And then I think the next one I went to was the dance party at Rose Bowl, which was so different because it was inside, and it was a tiny little bar, and I was vacillating from minute to minute between total elation, that it felt like we were here again with our people and in a space that was affirming, and we were celebrating pride. It was emotionally exhausting but very fulfilling, and there was so much joy that came out of it. I was really pleased to have been a part of that."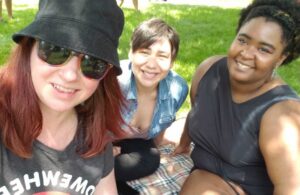 Carolina Garibay: "And you said you describe yourself as an activist. Can you talk a little bit about what drew you to being an activist and why that's so important for you?"
NF: "So my story is a pretty long one. My mom was a teacher, and I was on the picket lines with her and her union when I was a small girl, and she went to knock doors for political candidates, and I was with her on those lines. It's as though it's been a part of my story since the very beginning. And as a junior in high school, one of our teachers took us on an in-service day to a local homeless shelter we did a day of service, and I came back from that with a friend of mine, my best friend at the time, and we were both convinced we hadn't done nearly enough. So, we started a school group called Kids Who Care, and we did a whole bunch of fundraisers to go back and do another day of service there, and we sort of never stopped from there. I've just been really active since that time, but it just is the kind of thing that's been woven through my DNA. It's a core piece of who I am."
CG: "In what ways do you think Champaign could maybe improve in supporting and providing resources for the LGBTQ+ community?"
NF: "The area that could use the most work is understanding that it's not a them or us problem and that a better environment for LGBTQ+ folks is a better environment for everybody. I think that people tend to think of it as an us or them problem, right, if you're either in our community, or you're not in our community, and things impact you or don't impact you in that way. I just don't, I mean, I was about to say, 'I don't think that's true,' but I know that's not true. I know that a better environment for portions of the community means a better environment for the entire community. I think, you know, changing mindsets around this doesn't just impact the one kid in the one school who's struggling with their identity, right. This impacts the entire classroom, and then it impacts all of the families, and then it impacts the entire community, right. So, I wish that that could become a broader message and a more communicated message and a more listened to message."