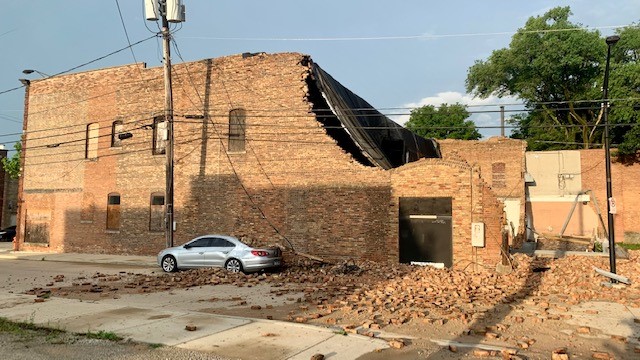 CHAMPAIGN – Investigators are looking into why a portion of a vacant commercial building collapsed in Champaign on Saturday afternoon. 
Champaign Fire Department Public Information Officer Randy Smith says firefighters responded to the structure at 63 Chester Street at 5:47 p.m. The department says no one was hurt. 
Upon arrival, Smith says firefighters reported the rear of the building had collapsed. Bricks laid across Chester Street. Some of the facade also fell onto a gray car parked near the building. Smith confirms no one was in the car at the time.
The fire department has closed Chester and Water Streets and sidewalks in the area in case more parts of the building collapse. The City of Champaign is also placing barricades to keep traffic away.
The cause of the collapse is under investigation.  But it was stormy in the area just before firefighters responded.
At 5:16 p.m. on Saturday, the National Weather Service in Central Illinois issued a Severe Thunderstorm Warning for Champaign County. Heavy rain and gusty winds pounded the Champaign-Urbana area for a half hour after the warning was issued.
63 Chester Street was built in the first decade of the 20th century as a warehouse, according to Champaign County History Museum president T.J. Blakeman, citing local fire insurance maps. But from the late 1960s to 2017, it was a nightclub. As Chances R, the location featured then up-and-coming rock bands such as REO Speedwagon and Cheap Trick. Blakeman says the building became the Chester Street Bar in the late 1970s. C-Street, as it was popularly known, operated as an LGBTQ dance club until 2017, when it was bought by local bar owner Scott Cochrane. Despite delays due to a 2017 fire and the COVID-19 pandemic, Cochrane was renovating the building, with plans to turn it into a brewery and distillery, according to the News-Gazette.  (This article was updated, providing details about the history of 63 Chester St. – JM 6/28/21)