It's been 110 years since the 1908 Race Riot erupted in Springfield. The violence and its aftermath inspired the founding of the NAACP, the prominent civil rights organization. A number of groups in the city recognized and remembered the violence and lives lost in a series of public events earlier this month. There are also plans to ensure more recognition in the future of a violent period many residents say deserves more attention.
James Loewen is a Decatur, Illinois native. He spoke in Springfield a decade ago as part of efforts to commemorate the 100th year since the riot. Loewen is a nationally-renowned historian and author. He wrote the book Lies My Teacher Told Me.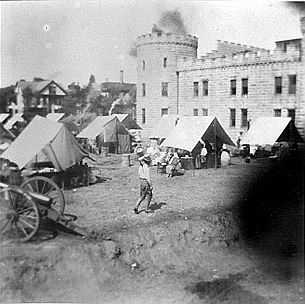 "The Springfield race riot was briefly famous around the world for the simple reason that it was in Abraham Lincoln's hometown and it kind of exemplified how far we had sunk with race relations. In fact, the crowd actually yelled something like, 'Abe Lincoln brought you in, we will drive you out,'" said Loewen, over a phone call from his current home in Washington, DC.
The riot, which some call a massacre, was incited by a white mob of thousands who wanted to lynch two black inmates housed at the county jail. One had been charged with murdering a white man, the other with raping a white woman.
After the two were spirited away for their safety, whites set on fire and destroyed black neighborhoods and brutalized and lynched two other innocent black men, one of whom had an interracial family.
The woman who claimed she was raped later recanted, and the accused was set free. The other inmate was convicted of murder, and sentenced to death by hanging.
By the end of the month, a grand jury brought over 100 indictments against dozens of people alleged to have taken part in the violence and destruction. There was only one conviction. The violence reshaped the city in ways felt even today, but many people don't know the story.
Loewen says kids should be taught this and similar histories, but too often, they're not. "I think the question isn't what's age appropriate," said Loewen. "The question is how do we get adults to realize that our children are not stupid, and just as we don't want to be lied to, neither do they."
As a child, Amanda Staab Londrigan found out for herself about the massacre. Her great-great grandfather worked as a reporter for The State Journal-Register and had covered the events. She and another student did a project on the riot for the state history fair. "While we were researching it, we were like, oh my goodness, nobody knows about this," said Londrigan, now a reading specialist at a local elementary school.

The petition was successful, and in 1994 a committee put together plans to install eight markers in the city, outlining the path of the mob and its destruction.
I asked the Springfield school district whether information about the riot is a part of current class instruction. A spokesperson sent a brief response: "We currently do not have District-wide curriculum for The Race Riots of 1908."
Leroy Jordan has worked for years to raise awareness of the violence a century ago. He was the first black male elementary school teacher in Springfield, and one of the first African Americans to serve on the local school board. As its president, he saw the district through a desegregation order in the seventies.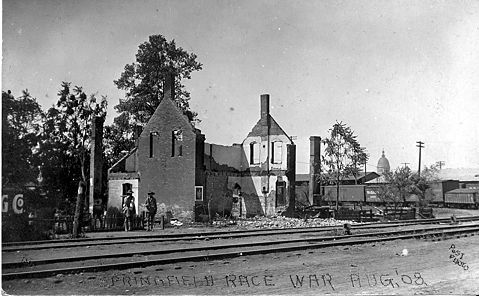 Jordan is a longtime resident of Springfield's east side. It's a majority black and low-income area. Jordan says the people living there are largely misunderstood.
He hopes efforts to better educate the public about what happened in 1908 will help previously unaware citizens,"really look at the community, especially the black community in a different way than we've always been treated."
Jordan, like others, says he considers the riot to be a massacre, as it was an act of violence carried out specifically by whites against blacks. He says it's been "kept quiet" for too long. "I think that the truth needs to be told about it so that we don't repeat this craziness that's going on in our country, even today," said Jordan.
After all, this history of the riots was largely buried for decades.
Four years ago, archaeologists set out to see if any remains from the 1908 blaze were under a parking lot that would be affected by construction on a nearby railroad. Brick foundations were found, some from multi-story residences, as were artifacts that paint a picture of what was lost by those who fled—pieces of dishware, a toilet, clothing, and a cross.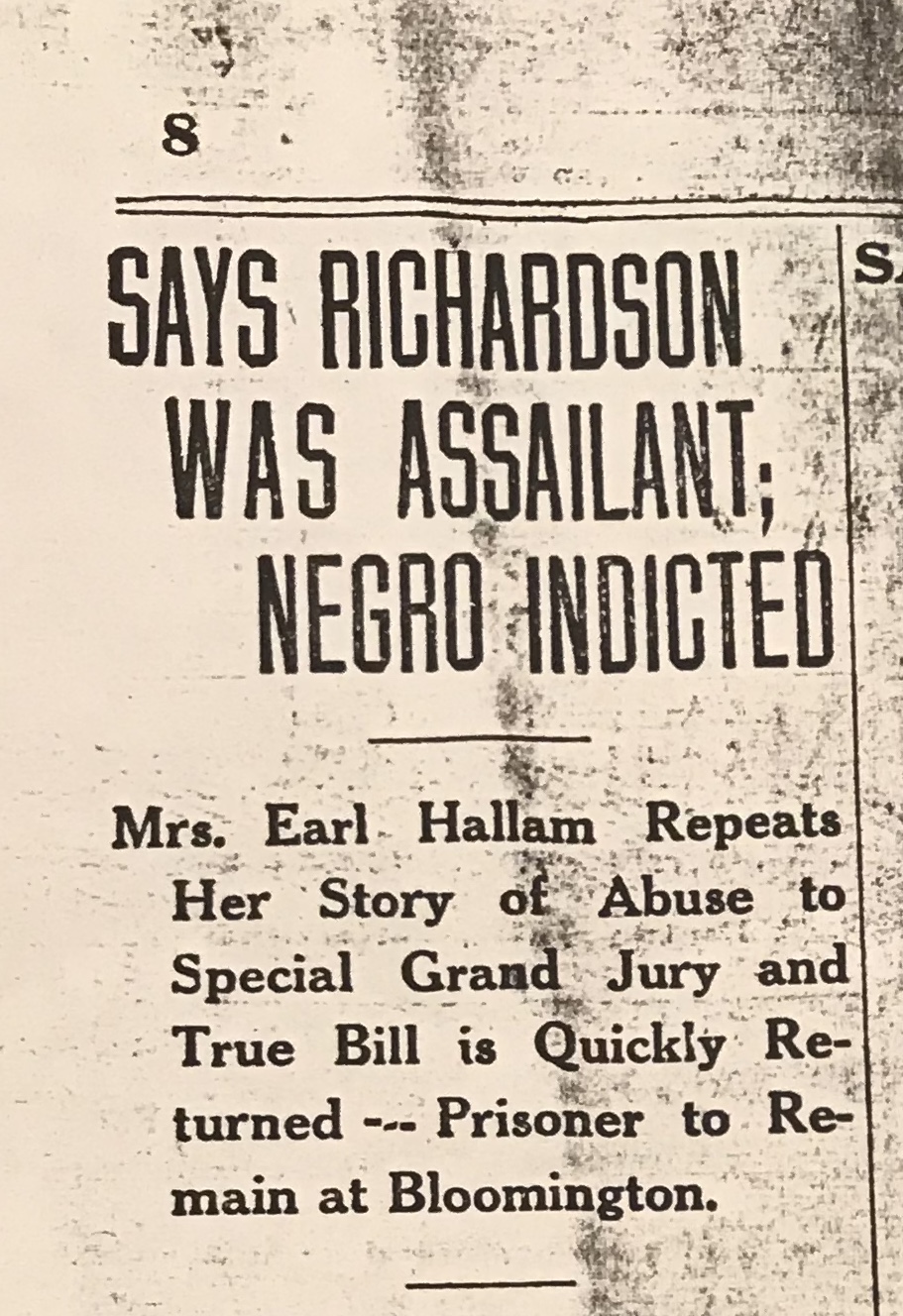 Floyd Mansberger, with Fever River Research, has worked on the dig and subsequent efforts to educate the public about what was found. "There was this effort to make black residents out as being substandard, as though they were living in shanties or were this criminal element that needed to be burnt out," said Mansberger. He says what was found in the dig helps convey the humanity of those forced to leave behind their livelihoods and belongings.
"The archaeology contributes to our interpretation of that particular point in time in 1908. It allows us to get a better feeling and understanding as to what the conditions were really like at the time, which is not the perception the press put forward," said Mansberger, alluding to the negative portrayal of black people often put out by newspapers at the time.
Leroy Jordan and others, including the advocacy group he is with called Faith Coalition for the Common Good, have called for the consecration of those building remains since they were first found.
A variety of efforts took place in Springfield around 2008 to mark the 100th year since the riot. Billboards went up declaring the city was an inclusive place. Eleventh Street, considered by some to be the dividing line to this day segregating a low-income part of the city, was named honorary Reconciliation Way. A sculpture was commissioned and completed by Peoria artist Preston Jackson. It's located directly across from the Abraham Lincoln Presidential Library and Museum. The museum had an exhibit dedicated to the history of the riot, which is now on display at the Springfield and Central Illinois African-American History Museum, located right outside of the cemetery Lincoln is buried in.
At the reception for that exhibit, descendents of William Donnegan, a prominent man with a white wife who was lynched by the mob, were in attendance. Connie McGee is connected to Donnegan through his sister.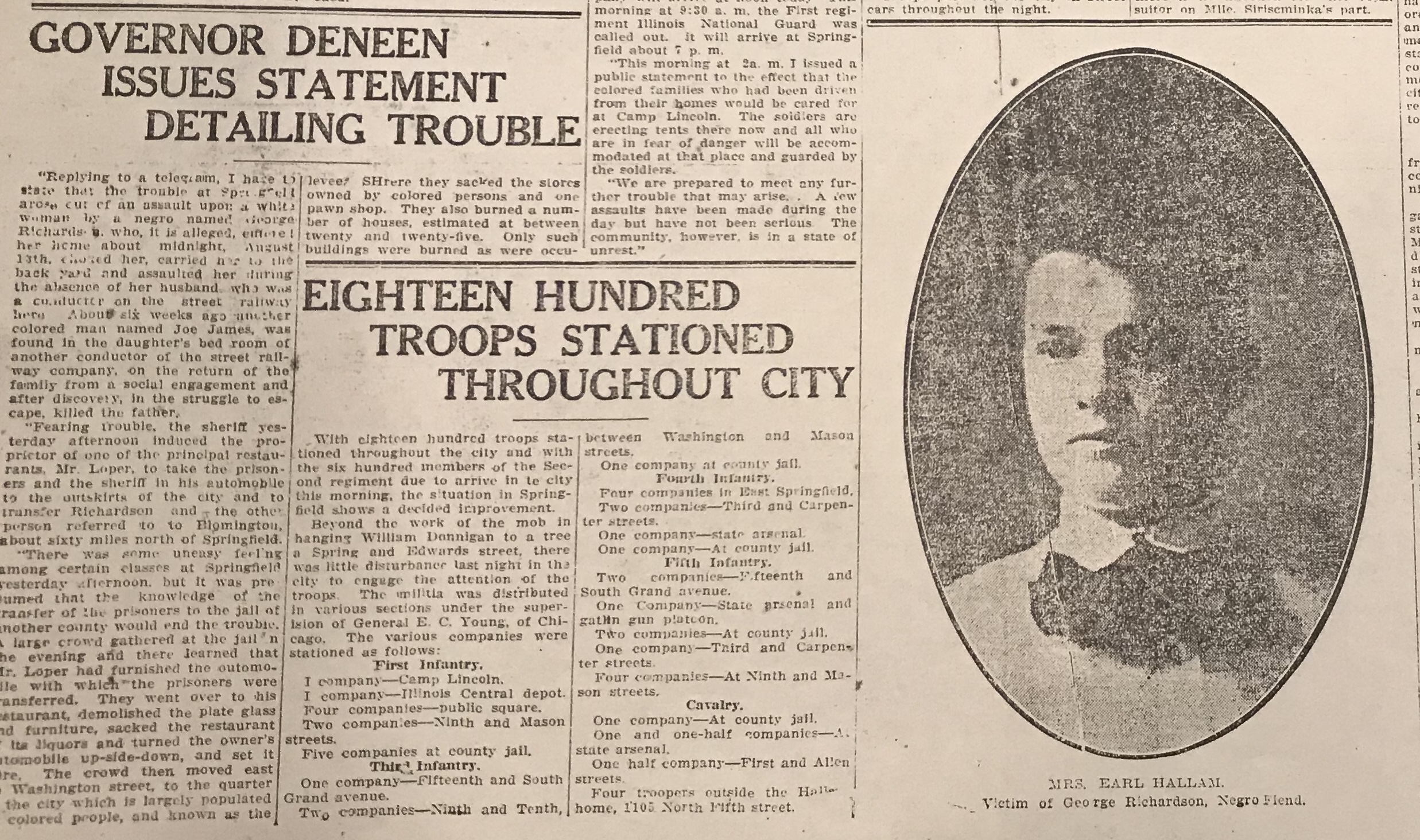 She says one of the stories passed down through generations claims, "there were a lot of burials, secret burials at night, from the race riot," in a nearby town.
While it seems the overall consequences may never be totally understood, the city continues to take steps to commemorate the violence and victims. At a ribbon cutting earlier this month, city leaders unveiled updated historical markers, originally installed in the nineties due to the efforts of Londrigan and fellow students.
The markers are designed to be more visible than the previous versions, and now include quotes from two former Illinois residents and US presidents—Lincoln and Obama. Ken Page, former president of the Springfield NAACP chapter, said the fight against racism is as relevant as ever. "We look at what happened in Charlottesville—Klansman that took off their robes to say we're going to wear Khakis and Polos, but we still will carry our Tiki torches so we will let you black folks know that we will still burn you out," he said.  "We look at how far we've come, but we also have to realize how far we still have yet to go."
It's still several years away, but the NAACP's current Illinois president is helping plan a new first-of-its-kind memorial commemorating the riot. Teresa Haley says an interactive outdoor memorial is set to be built over the foundations of those burned down homes near the railroad.
Visitors will walk through informational panels, and end at a sculpture based on one of the trees a man was hung from. "You walk through history, it's like a time capsule. So you go in one direction and you come out on the other side and you're breathless, you're speechless," said Haley about her hopes for the project. She says it will also include a healing garden for people to reflect and grieve. The project is slated to be completed by 2025.
Haley says she also plans to speak with educators about better incorporating this information in classrooms. "We're meeting with the school district. We're also meeting with the state board of education, because not only is it Springfield history, it's Illinois' history," she said.
James Loewen, the historian and author who came to speak in Springfield 10 years ago as the city grappled with its violent, racist history, says overall education about the country's racist past is sorely lacking. Loewen also has a book on sundown towns, places where white people intentionally, legally and sometimes violently excluded people of color after slavery was outlawed. He says what happened in Springfield was an attempt to make it a sundown town.
Part of Loewen's work debunks the common presumption that racial violence was a "southern" problem. In reality, Illinois had hundreds of sundown towns. Loewen says he found five former sundown towns in Mississippi while researching, as for Illinois? "I thought I would discover maybe ten in Illinois and maybe 50 across the country. I am now at a count of 506 sundown towns in Illinois" said Loewen.
Teresa Haley, with the NAACP, says she and others will continue to unbury the past, making it accessible to examine in the light of what we now know. She says it's all part of a larger goal to "defeat racism." And she says there are two key ways to fight that battle, "One is to vote, two is to talk and to educate people about it."
This interactive map shows the locations of markers and the history behind them. The content for this map is courtesy of the Springfield Convention and Visitors Bureau and was created by the Revealing Voices podcast at UIS – you can listen to that, here.